Restoration of a 1971 1275 GT
Article from Mini Magazine

1275GT –

Dreams Means Hines
Ant Hines is living the Hollywood highlife, but he's got a little piece of home with him - a dream 1275 GT restored by his
brother's company Somerford Minis.
Row after row of dilapidated Minis sit outside Somerford Minis, making the landscape look almost like a depressed Warhol screenprint. That is, until your eye meets this gleaming 1275 GT.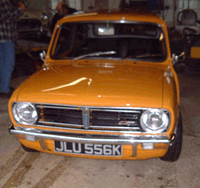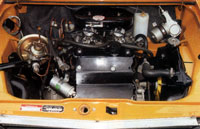 Thoughts of dilapidation turn to those of restoration as this concours standard Mini breaks the pattern, looking exactly as it would have done when it was brand spanking new in 1971. It's hard to believe that it sat about with the other bedraggled donor vehicles for eight long rot-inducing years before it was picked out for restoration.

In all honesty, we had trouble believing it had once been in the hopeless looking waiting line until we were told. "The only bit of bodywork that's original is the metal behind the seat back and the engine bulkhead, and even that's been repaired." We quickly discovered that at Somerford Minis a complete restoration means just that.
The restoration was done for Somerford owner Pete Hines' younger brother Ant, a scriptwriter who's currently working on the new Ali G series.
Slideshow: Restoration of a 1971 1275 GT (9 images)

"He always wanted a GT – he thought it would be cool to have one because they weren't really considered to be trendy in their day, like wearing flares when they weren't in," says Pete. "The car just happened to be parked in front of my brother's workshop and would catch my eye whenever I visited," says Ant. "Also, I was living in Stoke Newington in London at that time, very near to the childhood home of Marc Bolan.

As a fan I liked the fact that his last journey had taken place in a similar car which ended up in a very similar condition." Pete takes up the story:

"The car sat until two years ago when Ant gave me the money to restore it for him."

We expected Ant to have always had an affiliation to the Mini; after all with a brother who's devoted his working life to restoring them it only seems right. Indeed, as a small kid in the early '70s Ant remembers the wayward hippy son of the next – door neighbour having a beat up '60s Cooper. "I immediately thought Minis were cool by association," recalls Ant. "My brother then bought and restored a 1969 Mini for his first car and after the first time flying round the Wiltshire lanes with him I was hooked."

We met Pete before we could snatch a few moments to chat with Ant from America, but it didn't really interfere with the unfolding of the story as Pete knows his brother very well. "The GT originally came from Swindon and was an MoT failure. It was a total wreck but Ant liked it because it was an early one," Pete tells us.

"I love the styling of the early 10 inch wheel GTs," Ant confirms later. "The combination of the Clubman front with '70s graphics, a garish paint colour and slightly wider than normal tyres manages to look not only aggressive and sporty but also slightly cartoonish. Like all iconic and well designed objects, the cars reflect quite clearly the times in which they were made – a 10 inch wheel GT screams 1971 at you."

The brown pinstripes running across the length of the car set off the GT's Bronze Yellow paintwork. The perfect retro colour scheme is complemented by the chrome finishing strip, which runs round the arches and bottom seam. The general lack of chrome makes the little there is stand out even more. Graham, who works at Somerford, says, "there's no new chrome on it at all – if it's chrome, then it originally had chrome."

This type of purist approach to the restoration is exactly what Ant ordered - he wanted "spot-on original".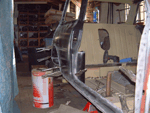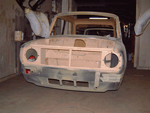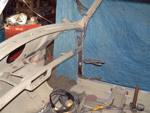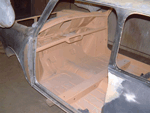 And that's what he got after a solid three month restoration undertaken by John at Somerford, who worked on it six days a week. It's company policy to have only one member of staff work on each car for continuity and as the complete restorations are so time consuming they only undertake about four each year. Starting work on a car which only has two bits of metal worth keeping is no easy task, even for those who do it full time. "We couldn't just cut everything out because we'd have been left with nothing," says Graham. "I remember when John leant on the exhaust tunnel and it just collapsed."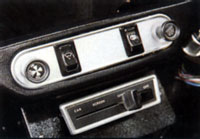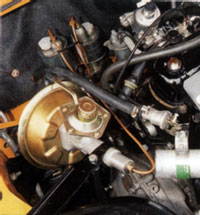 In the end, the subframes were used as guides in what appears to have been virtually building the car from scratch. "Subframes are a brilliant gauge because if one doesn't fit you know you've got something wrong," Graham explains. Everything from the bottom of the windscreen is new and everything, with the exception of the sandblasting, has been done on site. It's Somerford's policy to replace panels rather than weld patches on and the panels it uses are top quality. The shell is sandblasted to ensure there's no rust at all.

Ant had originally asked for a full length Webasto sunroof to be fitted, but changed his mind at the last minute, so a new roof joined the long list of replacement panels.

It's easier to list what's original rather than what's new – the only bit of the bodywork that remains is the repaired metal behind the seat back and the engine bulkhead.

Impressively, the car's inner wings were handmade, only for British Motor Heritage to start selling them six weeks later.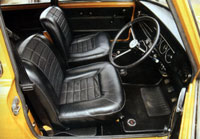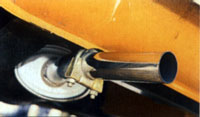 The attention to detail and no expense spared approach that Somerford takes towards its restorations is rare and is really something special. For example, the front bumper on Ant's GT is an original which Somerford had re-chromed by S&T in Yate, costing much more than buying a new one would have done. The steering wheel is really quite exceptional as well and it took a lot of effort to make it look '70s new. "We took it apart, sprayed it, had Astrali re-trim it and used the last centre badge we had," says Graham. When Pete later tells us, "it's pretty much near enough as original as we could get it, right down to the steering wheel and badges," we believe him.

The interior too looks completely authentic, GTs had the same interior as other Minis from the period, only the detail is different. The seats have a different vinyl trim and door cards to match. Unable to get hold of originals in good condition, Somerford fitted the car with seats from Newton Commercial, who make exact copies of the originals, so everything looks as it would have done.

Unassuming probably isn't a word that often gets used to describe a restoration that has cost in the region of £16,000 but that's exactly what Ant's car is. The Mini's not noisy, it's easy to drive and really does go – in short, it's exactly how a GT was meant to be. Only very subtle things have been altered to make it easier for Ant to use it as an every day car, fitting the halogen headlamps for example. It's clear that Somerford doesn't cut any corners and for that very good reason a full restoration takes a hell of a long time and costs a hell of a lot of money. "It's not an economical decision, it's an emotionally led venture," says Graham.

For Ant, this Mini was something that he'd always wanted and as he doesn't intend to sell the GT, it's money well spent. He describes seeing his Mini for the first time as " a bit like one of the kids who saw Chitty Chitty Bang Bang emerge from their dad's shed after months wondering what was going on behind the closed doors."

Definitely a good thing then. However, after only two weeks someone broke into it for the stereo, which meant a new boot lid and passenger door – scratched by the glass from the broken window. Ant continued to use the GT in London until two months ago when he went to the States.

Not content with a simple reincarnation, emigration is next on the GT's to-do-list. Fox have just bought a script for a TV programme from Ant, so he'll be taking it over to the US to use as his daily drive. "I plan to have it shipped to California this July or August, just when it's black vinyl seats and lack of air con will be most appreciated," laughs Ant.

"Assuming it's not immediately crushed by a Hummer driver who fails to notice it, I'll be using it to bomb around Laurel Canyon and the Hollywood Hills, and maybe take it up the Pacific Coast Highway to Big Sur."

Who knows, maybe we'll see this rag to riches 1275 GT in the movies someday.

Ready for road test

Ready for road test

Original Rostyle
Wheels

1275 Legend