Re-Shells
Replacement Bodyshells for 'The Classic Mini'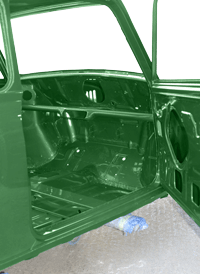 Here's a fact! All Minis rust badly – the newer they are, the worse they become. If you've owned Minis for a while you will already know this. If you are new to them be prepared.
A restoration or refurbishment is not the answer for everyone, which is where a new bodyshell makes sense.
They can be a very cost effective way of rejuvenating your Mini. We stock every variety of British Motor Heritage Classic Mini bodyshell. In fact we probably keep the largest stocks in the World (subject to availability).
We can paint the shell and transfer the parts from your car, or provide just the bodyshell either in primer or a colour of your choice. Some customers prefer us to build a rolling shell for them to complete. We are very flexible and would be happy to discuss your requirements.
The same painting process is used for both inside and outside of the bodyshell The Toeboard Paintwork Detail Interior Paintwork Detail

Interior Paintwork
Detail

The Toeboard
Paintwork Detail

The same process is used for both
inside and outside of the bodyshell
With a new bodyshell you can guarantee a rust free Mini and build the car of your dreams. They also appeal to hands-on customers who like to carry out all their own work but find tackling a rusty body shell very daunting.
Thanks to BMH the Mini lives on!