Refurbishment
Reviving the life of 'The Classic Mini'
All Minis eventually succumb to the dreaded rust. Later models suffer more than earlier ones.
If your car is happily driving around and in regular use but looking tatty around the edges, our Refurbishment Service could be just what is needed to bring your car back up to scratch.
Unfortunately the corrosion process starts at a very early stage of a Minis life. The first signs are rust below the headlamps, the back edge of the 'A' panels and crumbling sills. This is obviously very unsightly and will eventually lead to your car failing the MOT test. In the majority of cases the car will be in excellent condition mechanically with excellent interior trim.
A full restoration would certainly be an overkill which is why we offer this refurbishment service. It basically deals with the 'skin' panels of the car and rejuvenates the bodyshell. During this process the car remains on its wheels and is left as complete and undisturbed as possible.
It is a very cost effective solution and gives your Mini a whole new lease of life.
Each Mini is different and the panels in need of replacement vary from car to car. Below is a typical list: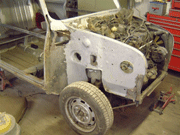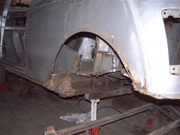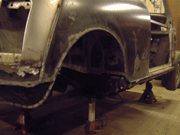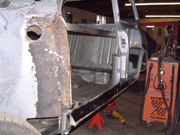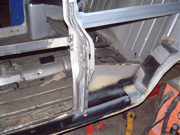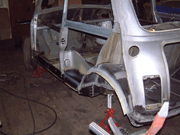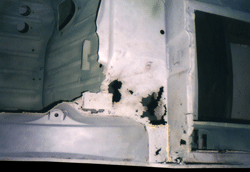 New Rover / Heritage panels
Bonnet
Front panel
2 x front wings
2 x 'A' panels
2 x flitch panels (behind 'A' panels)
1 x scuttle panel & closing plates (below windscreen)
2 x door skins (and repairs to door frames)
2 x outer sills (originals NOT oversills)
Rear valence & closing plates
Repairs to boot floor
2 x door step repairs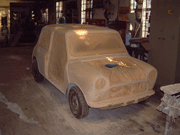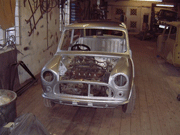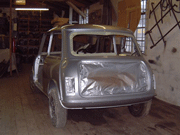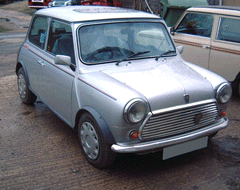 The exterior of the car is re-sprayed to include stone-chipping and over-painting outer sills and the underside of wings etc. Naturally all affected cavities are injected with anti-corrosion wax. New decals and coach-lines are fitted where appropriate.
When the car is re-fitted this gives you an opportunity to replace any worn or damaged items such as bumpers, mirrors, wheel arches, weather seals etc. We would be happy to discuss your requirements with you.
The end result is a Mini which has an extended life and looks like new.
Examples:

Cooper 35

1961 Austin
Countryman

1982 Mini Van

1974 Mini Pickup