Servicing & Repair
Maintaining the life of 'The Classic Mini'

Servicing
This is something many owners overlook yet it is essential for the longevity and performance of your Mini. Unlike more modern vehicles, the Mini requires regular servicing. We recommend every 6,000 miles or once a year as a minimum for manual cars and every 3,000 miles for automatics. This is becoming increasingly alien to general garages with comments like 'if we can't plug it into a computer we can't help' and '20/50 grade oil, what's that?!'
We have full workshop facilities, manned by very experienced and knowledgeable staff. We cater for all Classic Minis – old, new standard or modified. We know them all inside out!
Our Parts Department carries over 6,000 parts in stock and obviously includes service items for all Minis. This means there is no time wasted waiting for parts deliveries. The parts we stock are of high quality with many being original Rover components. We recognise that customers demand quality.
MOT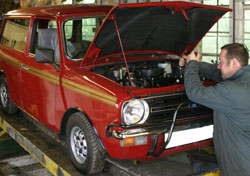 We provide an MOT service via an independent testing station. We can carry out any necessary repairs, whether mechanical or body work, to gain a current MOT certificate. Because of our Workshop and Parts Department, we are able to carry out any repairs required and arrange a re-test quickly.
Our detailed service check covers 75 points to ensure all areas of the Mini are covered during the service, including of course replacing all of the normal consumable parts and lubricants. We place great emphasis on preventative maintenance i.e. reporting any potential future problems. Obviously it is better to deal with these on the spot before they could cause premature failure of other components. We believe strongly in keeping customers informed and always advise clients before carrying out any additional repairs which may come to light during a service.
General Repairs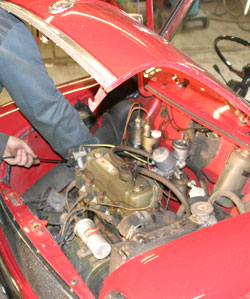 We are equipped to carry out whatever repairs you require whether mechanical, body work, trim or accident repair work. It is worth noting that you can insist on which garage you would prefer to carry out any accident repair work, you do not have to use your insurance company's 'Approved Repairer'.
We would be delighted to provide estimates for any repairs before work is carried out.
Because we work only on Classic Minis and have skilled, knowledgeable staff, we can draw on this when faced with an unusual problem. This also means that 'head scratching' time and mis-diagnosis will be kept to a minimum. Sometimes we can detect a problem just by talking to the customer or listening to the engine. Just about any component required to repair your car is supplied directly from our own Parts Department. All of this ensures work is carried out efficiently with a minimum of fuss and to a very high standard.
We also offer many other services such as:
Engine rebuilds, engine tuning or engine servicing, re-shelling to a Heritage bodyshell, gearbox rebuilds, re-trimming of all interior trim, modification, electrical work, race preparation, anti-corrosion rust proofing, brake fluid checks, suspension geometry checks and set-ups, sand blasting, steam cleaning, valeting etc., all of which are at very competitive prices.

Servicing

Setting Suspension
Geometry

Electronic Testing
Ramp Inspection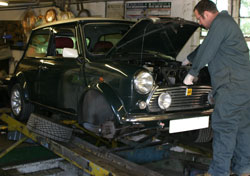 This is a very popular service which is basically a very thorough mechanical and road test. It highlights any faults on the car, both current and potential future problems. It could be compared to a 'full health check' for the car and a written report is provided.
This will allow a customer to plan for the future, budget for potential work and possibly decide whether to preserve with the car as it, is or to take it off the road and carry out major repairs.